DHBB WORLD DOMINATION 2005-2007 TOUR


2.11.2007 - Kaapelitehdas, Helsinki, Finland with Al Lowe! (Altparty 7)
30.7.2005 - Hartwall Arena, Helsinki, Finland (Assembly 2005)
26.3.2005 - Bingen am Rhein, Germany (Breakpoint 2005)
14.1.2005 - Gloria, Helsinki, Finland (Altparty 6)
? - ? (book your tour date at +358-40-HASSELHOFF now !)
David Hasselhoff Big Band brings you the old classics from synth pop era, 8-bit computer game and demo soundtracks with fresh arrangements.

"A shadowy flight into the dangerous world of a band which does not exist. David Hasselhoff Big Band, a young group on a crusade, to champion the cause of the innocent, the helpless, the powerless. In a world of music industry which operates above the law..."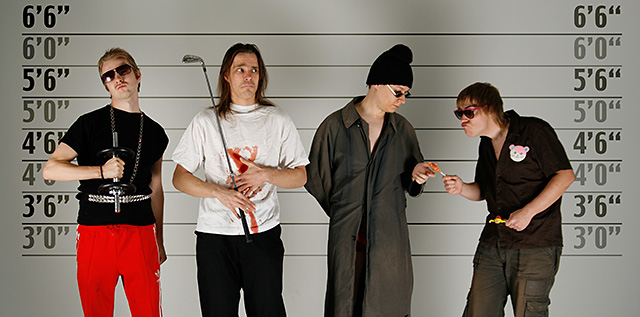 (from left to right: Hasselw, Baycadet, Krakuhoff & Q-rider)

Altparty6 live clips available, download here:
Das Model (DHBB Dub edit)
Paranoid (8bit Commodore mix)
Ghosts'n'Goblins (Finnish Tango version)